Master Of Moods, Comic And Grim
[This review of Stagestruck by Tom Nolan originally appeared in the Wall Street Journal on July 2, 2011]
Chief Superintendent Peter Diamond, the series character created by British author Peter Lovesey 20 years ago, may not much resemble the rugby player he once was—the belly bulging over his belt sees to that—but he still knows how to bull his way through a workplace scrum. Though he is sensitive about his appearance, you wouldn't know it from the way he strides "in warlike mode" through his police department in Bath, England, where the other coppers know not to argue with him when he has his "arms folded and jaw jutting in Churchillian defiance."
Diamond, who has become a widower in the course of the series, is an old-fashioned policeman: impatient with forensic delays, hostile to computers, less than fanatical about the proper handling of evidence. He even quit the force once because he was unable to adapt to change; he was lured back but remained determinedly uninterested in learning new tricks. He knew that he was "no Sherlock Holmes," but "his self-respect as a detective wouldn't let him walk away" from a vexing case.
In "Stagestruck" (Soho, 325 pages, $25), the 11th book in the series, the puzzling events in Diamond's latest investigation begin with the facial burns suffered by a fading pop singer in the first moments of her debut as an actress, on the stage of Bath's Theatre Royal. A makeup mishap appears to be the cause—but seemingly no crime is involved. Then one of the theater's crew is found dead backstage, and the case becomes a priority.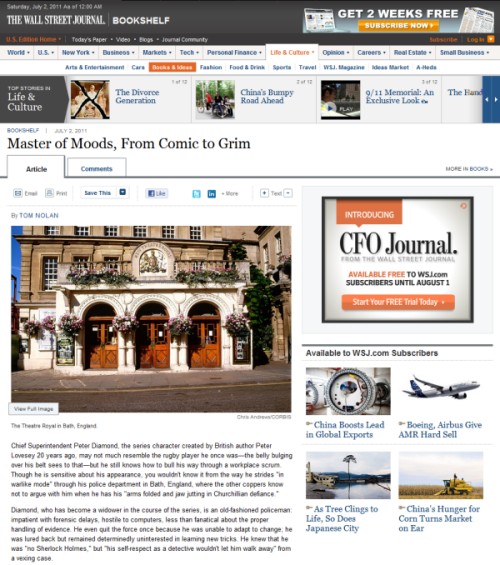 It proves a challenging assignment for Diamond: The gruff detective has suffered a lifelong, inexplicable fear of being inside theaters. The phobia began in childhood, but he hasn't a clue what caused it. His female boss suggests that he see a psychiatrist ("This is in danger of becoming an obsession"); but the investigator takes a more direct approach, tracking down an old teacher who may be able to shine light on a long-ago trauma.
The book's title thus serves double-duty: Diamond is struck with panic before the proscenium, while victims are struck by real violence backstage.
Mr. Lovesey's narrative is swift, but he takes time out for local color and abundant humor, the latter springing from the book's quirky characters, including the matriarch who opens her estate for charity functions ("They come from miles around for a slice of my famous lemon drizzle cake") and the Gilbert-and-Sullivan-quoting patrolman whose verbal gymnastics—"Permit me to introduce Constable Reed. Reed can write at speed, so Reed is needed. Oh, yes, there is a need for Reed"—drive Diamond to distraction.
The most engaging character, of course, is Diamond himself: always driving slowly "at his usual steady 40" but quick with judgments. He warns a patrolman: "You'll soon learn that I'm not easy to work for. Whatever you do, it's wrong." But a female friend tells him: "I quite enjoy your grouchy moments. You can be amusing and curmudgeonly at the same time."
Mr. Lovesey is a wizard at mixing character-driven comedy with realistic-to-grim suspense. And in a writing career spanning four decades, he has created a stylish and varied body of work that includes—in addition to nearly a dozen Peter Diamond titles—eight Victorian thrillers with Sergeant Cribb in charge; three Edwardian comedies of manners and mystery; a Hollywood silent-movie-era caper; a 1920s ocean-liner adventure; two novels of life in the English country and city in the 1940s; and four volumes of short stories. Mr. Lovesey's sports novel, "Goldengirl" (1977)—published under the pseudonym Peter Lear—was made into a movie, and dramatizations of his Sergeant Cribb series were seen in the U.S. on PBS's "Mystery!" series in the early 1980s.
The first Cribb thriller, "Wobble to Death," marked Mr. Lovesey's fiction debut in 1970 and is still a good introduction to the author's work. Mr. Lovesey, a former English teacher, wrote the book hoping to win a £1,000 fiction-writing prize (he did). The title derives from the name—"wobbles"—given to six-day walking competitions that were held in Britain in the 1880s. The fatal poisoning of a "champion pedestrian" during such an event introduced readers to Sergeant Cribb—40ish, not eccentric but with a sense of humor all his own—and his diligent assistant, Constable Thackeray.
Maybe the best of Mr. Lovesey's stand-alone books is "The False Inspector Dew" (1982), a tale set in 1921 mostly aboard the ocean liner Mauretania. A henpecked dentist and his girlfriend (who reads too many romances) have booked passage under assumed names, intent on murdering his wife. The complications and coincidences that ensue among a large ensemble cast range from the bizarre to the hilarious, as if in a film directed in alternate sequences by Alfred Hitchcock and Preston Sturges.
That Mr. Lovesey would make a midcareer transition from period fiction to contemporary police investigations is just as surprising as one of the sudden mood shifts in any of his idiosyncratic works—and just as satisfying.