If I could make a living from short stories, I'd be delighted to write nothing else. Over the years they've allowed me to experiment in ways I wouldn't have risked with a novel. They might be in the form of letters, like The Pomeranian Poisoning, or monologue in Curl up and Dye or even an agony aunt column in Arabella's Answer.
I submitted my first short story, The Bathroom, to Ellery Queen's Mystery Magazine in 1973 and it was rejected. I tried with other stories and had more success. In one issue they put my picture on the cover. Buoyed up by this star treatment I did something that still makes me cringe. In 1981 I resubmitted The Bathroom. I heard nothing from Ellery Queen. Mortified, I assumed he had a long memory. Then I attended a conference in Stockholm and found myself alone in a lift with Fred Dannay, co-writer of the Ellery Queen stories. The doors closed. No escape. He looked at my name-tag. "Peter Lovesey. I know your name." Top of your blacklist, I thought. His eyes twinkled behind heavy specs. "Keep the stories coming, won't you?" After I got home a letter arrived accepting my story. It was published by Ellery Queen under a different title.
I try to make the stories surprising, but sometimes they surprise me. Youdunnit — a perverse one in which the reader becomes the killer — sparked a controversy at the Sorbonne involving Umberto Eco, Professor François Gallix and an eccentric organisation called OULIPO (Ouvroir de Littérature Potentielle). It led to my attending a lecture at the Sorbonne and later murdering (in print, in Murdering Max) the one other man, Dr Max Dorra, who had tried to pull off the same trick. All is explained in a scholarly study, Crime Fictions: subverted codes and new structures, by Francois Gallix and Vanessa Guignery (Presses de l'Université Paris-Sorbonne, 2004).
Another nice surprise was winning a crate of champagne and a set of glasses, the Crime Writers' Association Veuve Clicquot Prize for The Secret Lover in 1985. Further awards followed for The Crime of Miss Oyster Brown: the Ellery Queen Readers' Award, 1991; and The Pushover, winner of the Golden Mysteries Prize given by the Mystery Writers of America to mark their 50th anniversary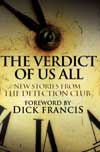 In 2006 I edited The Verdict of Us All, a surprise tribute by members of the Detection Club to its former President, HRF Keating, for his eightieth birthday. Inviting contributions was a happy task — no arm-twisting — and they came from the elite of British crime writing: Catherine Aird, Robert Barnard, Simon Brett, Liza Cody, Lionel Davidson, Len Deighton, Colin Dexter, Jonathan Gash, Michael Hartland, Tim Heald, Reginald Hill, PD James, Michael Z Lewin, James Melville, Andrew Taylor and June Thomson. Dick Francis wrote the foreword and Sheila Keating picked a story of Harry's to round off the book. The publishers are Crippen & Landru in the US: ISBN 1-932009-55-8 and Allison & Busby in the UK: ISBN 0-74908-192-9
Short Story Collections
Butchers And Other Stories Of Crime
16 stories: Butchers * Vandals * The Corder Figure * Private Gorman's Luck * The Secret Lover * Did You Tell Daddy? * The Bathroom * Arabella's Answer * How Mr Smith Traced His Ancestors * Fall-Out * Belly Dance * Trace of Spice * The Virgin and the Bull * The Staring Man * Woman and Home * The Locked Room
UK Publisher: Macmillan, 1985
US Publisher: Mysterious Press, 1985
US Paperback: Mysterious Press, 1988
The Staring Man And Other Stories
Signed, limited edition
4 stories: Butchers * The Corder Figure * The Staring Man * Woman and Home
Publisher: Eurographica, Helsinki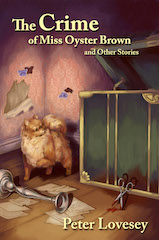 The Crime Of Miss Oyster Brown And Other Stories
18 stories: The Crime of Miss Oyster Brown * The Model Con * Where is Thy Sting? * Being of Sound Mind * Shock Visit * The Haunted Crescent* Curl Up and Dye * Friendly Yachtsman, 39 * The Pomeranian Poisoning * Ginger's Waterloo * A Case of Butterflies * Youdunnit * The Lady in the Trunk * Pass the Parcel * You May See a Strangler * The Curious Computer * The Man Who Ate People * Supper with Miss Shivers
UK Publisher: Little, Brown, 1994
US Publisher: Crippen & Landru, 2019
Do Not Exceed The Stated Dose
15 stories, foreword and checklist of novels and stories: Because it Was There * Bertie and the Boat Race * Bertie and the Fire Brigade * The Case of the Easter Bonnet * Disposing of Mrs Cronk * The Mighty Hunter * Murder in Store * Never a Cross Word * The Odstock Curse * A Parrot is Forever * Passion Killers * The Proof of the Pudding * The Pushover * Quiet Please — We're Rolling * Wayzgoose
UK Publisher: Little, Brown, 1998
US Publisher: Crippen & Landru, 1998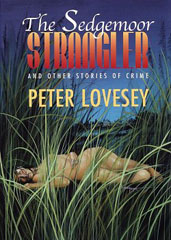 The Sedgemoor Strangler And Other Stories Of Crime
16 stories, foreword and checklist of novels and stories: The Sedgemoor Strangler * The Perfectionist * Interior, With Corpse * Dr Death * The Four Wise Men * Away With the Fairies * Showmen * The Word of a Lady * Star Struck * The Amorous Corpse * The Kiss Of Death * The Stalker * Ape * The Usual Table * The Problems of Stateroom 10 * Murdering Max
US Publisher: Crippen & Landru, 2001
UK Publisher, Allison & Busby, 2002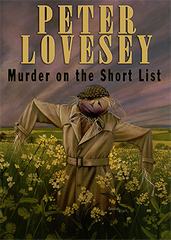 Murder On The Short List
14 stories, foreword and checklist of novels and stories: The Field * Bullets * Razor Bill * Needle Match * A Blow on the Head * The Munich Posture * The Best Suit * The Man Who Jumped for England * Second Strings * Bertie and the Christmas Tree * Say That Again * Popping Round to the Post * Window of Opportunity * The Case of the Dead Wait
US Publisher: Crippen & Landru, 2008
Limited signed clothbound edition ISBN: 978-1-932009-72-9
Softback edition ISBN: 978-1-932009-73-6
UK Publisher: Severn House, 2009. Hardback. ISBN: 9780727867469
UK paperback edition: Severn House, 2009. ISBN: 978-1-87451-108-9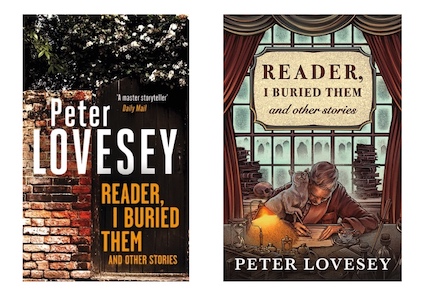 Reader, I Buried Them and Other Stories
16 stories, foreword, article, poem and checklist of novels and stories. And the Band Played On * Sweet and Low * Lady Luck * Reader, I Buried Them * Angela's Alterations * The Bitter Truth * Ghosted * The Homicidal Hat * Oracle of the Dead * Formidophobia * The Deadliest Tale of All * Gaslighting * A Three Pie Problem * Remaindered * Agony Column * The Bathroom * The Tale of Three Tubs * A Monologue for Mystery Lovers
US publisher: Soho Crime, 2022
UK publisher: Sphere, 2022
CHECKLIST OF ALL STORIES with first publication
Agony Column
Red Herrings, May, 2008
Amorous Corpse, The
Mammoth Book of Locked Room Mysteries & Impossible Crimes (Robinson, 2000)
And the Band Played On
Reader, I Buried Them & Other Stories, 2022
Angela's Alterations
Deadly Pleasures (Severn House, 2013)
Ape
Mary Higgins Clark Mystery Magazine, Summer, 1998
Arabella's Answer
Ellery Queen's Mystery Magazine, April, 1984
Away With the Fairies
Malice Domestic 10 (Avon, 2001)
Bathroom, The
Winter's Crimes 5 (Macmillan, 1973)
Because It Was There
Whydunnit. Perfectly Criminal 2 (Severn House, 1997)
Behind the Locked Door (re-titled from The Locked Room)
Ellery Queen's Mystery Magazine, March, 1979
Being of Sound Mind
Winter's Crimes 23 (Macmillan, 1990)
Belly Dance
Winter's Crimes 15 (Macmillan, 1983)
Bertie and the Boat Race
Crime Through Time (Berkley, 1996)
Bertie and the Christmas Tree
The Strand Magazine, October -December, 2007
Bertie and the Fire Brigade
Royal Crimes (Signet, 1994)
Best Suit, The
Ellery Queen's Mystery Magazine, June, 2008
Bitter Truth, The
Deadly Anniversaries (Hanover Square Press, 2020)
Blow on the Head, A
ID Crimes of Identity, (Comma Press, 2006)
Bride in the Bath, A (re-titled from The Bathroom)
Ellery Queen's Mystery Magazine, August 21, 1981
Brighton Line Murder
The Observer, December 14, 1986 Contest story
Bullets
The Mammoth Book of Roaring Twenties Whodunnits (Constable & Robinson, 2004)
Butchers
Winter's Crimes 14 (Macmillan, 1982)
Butler Didn't Do It, The (re-titled from Peer's Grisly Find: Butler Dead in Bath)
Pamphlet (Crippen & Landru, 2001)
Case of Butterflies, A
Winter's Crimes 21 (Macmillan, 1989)
Case of the Dead Wait, The (in three parts)
Daily Mail, December 24, 27 & 28, 2004
Case of the Easter Bonnet, The
Bath Chronicle, April 17, 1995
Christmas Present, The
Woman's Own, December 24, 1990
Corbett Correspondence, The (with Keith Miles, as Agent No.5 & Agent No. 6)
Malice Domestic 6 (pocket Books, 1997)
Corder Figure, The
Butchers and Other Stories of Crime (Macmillan, 1985)
Crime of Miss Oyster Brown, The
Midwinter Mysteries 1 (Scribners, 1991)
Curious Computer, The
New Adventures of Sherlock Holmes (Carroll & Graf, 1987)
Curl Up and Dye
Ellery Queen's Mystery Magazine, July, 1986
Deadliest Tale of All, The
On a Raven's Wing (Harper's, USA, 2009)
Did You Tell Daddy?
Ellery Queen's Mystery Magazine, February, 1984
Disposing of Mrs Cronk
Perfectly Criminal (Severn House, 1996)
Dr Death
Crime Through Time III (Berkely, 2000)
Fall-Out
Company Magazine, May, 1983
Field, The
Green for Danger (Do Not Press, 2003)
Formidophobia
Reader, I Buried Them & Other Stories, 2022
Four Wise Men, The
More Holmes for the Holidays (Berkley, 1999)
Friendly Yachtsman, 39
Woman's Own, July 18, 1987
Gaslighting
Reader, I Buried Them & Other Stories, 2022
Ghosted
Original Sins (Severn House, 2010)
Ginger's Waterloo
Cat Crimes (Donald L Fine, 1991)
Haunted Crescent, The
Mistletoe Mysteries (Mysterious Press, 1989)
Homicidal Hat, The
Pamphlet (Crippen & Landru, 2008)
How Mr Smith Traced His Ancestors
Mystery Guild Anthology (Book Club Associates, 1980)
Interior, With Corpse
Scenes of the Crime (Severn House, 2000)
Keeping Fit (re-titled from Belly Dance)
Ellery Queen's Mystery Magazine, March, 1983
Kiss of Death, The
Published as Christmas pamphlet (Crippen & Landru, 2000)
Lady in the Trunk, The
A Classic English Crime (Pavilion, 1990)
Lady Luck
Mystery Tour: A Crime Writers' Association Anthology (Orenda Books, 2017)
Locked Room, The
Winter's Crimes 10 (Macmillan, 1978)
Man Who Ate People, The
The Man Who … (Macmillan, 1992)
Man Who Jumped for England, The
Mysterious Pleasures (Little, Brown, 2003)
Man With a Fortune, A (re-titled from How Mr Smith Traced His Ancestors)
Ellery Queen's Mystery Magazine, November 3, 1980
Mighty Hunter, The
Midwinter Mysteries 5 (Little, Brown, 1995)
Model Con, The
Woman's Realm Summer Special, 1994
Munich Posture, The (chapter in collaborative story)
The Rigby File (Hodder & Stoughton, 1989)
Murder by Christmas Tree
The Observer, December 20, 1992 Contest story
Murder in Store
Woman's Own, December 21, 1985
Murder in the Library
Evening Chronicle, Bath, October 6, 1993 Contest story
Murdering Max
Ellery Queen's Mystery Magazine, September-October, 2001
Needle Match
Murder is My Racquet (Mysterious Press, 2005)
Never a Cross Word
Mail on Sunday, June 11, 1995
Odstock Curse, The
Murder for Halloween (Mysterious Press, 1994)
Oracle of the Dead
Ellery Queen's Mystery Magazine, Mid-December, 1988
Parrot is Forever, A
Malice Domestic 5 (Pocket Books, 1996)
Pass the Parcel
Midwinter Mysteries 3 (Little, Brown, 1993)
Passion Killers
Ellery Queen's Mystery Magazine, January, 1994
Peer's Grisly Find: Butler Dead in Bath
The Observer, December 7, 1986 Contest story
Perfectionist, The
The Strand Magazine, April-July, 2000
Photographer Slain
The Observer, November 30, 1986 Contest story
Poisoned Mince Pie, The
The Observer, December 21, 1986 Contest story
Pomeranian Poisoning, The
Winter's Crimes 19 (Macmillan, 1987)
Popping Round to the Post
The Verdict of Us All (Allison & Busby, 2006)
Private Gorman's Luck
Butchers and Other Stories of Crime (Macmillan, 1985)
Problem of Stateroom 10
Murder Through the Ages (Headline, 2000)
Proof of the Pudding, The
A Classic English Crime (Pavilion, 1995)
Pushover, The
Ellery Queen's Mystery Magazine, June, 1995
Quiet, Please — We're Rolling
No Alibi (Ringpull, 1995)
Razor Bill
Sherlock, issue 60, 2004
Reader, I Buried Them
Guilty Parties (Severn House, 2014)
Remaindered
Bibliomysteries (Mysterious Bookshop, 2014)
Royal Plot, The
The Observer, December 28, 1986 Contest story
Say That Again
The Ideas Experiment, privately published by Liza Cody, Michael Z Lewin and Peter Lovesey, 2006
Second Strings
The Strand Magazine, June-September, 2004
Secret Lover, The
Winter's Crimes 17 (Macmillan, 1985)
Sedgemoor Strangler, The
Criminal Records (Orion, 2000)
Shock Visit
Winter's Crimes 22 (Macmillan, 1990)
Showmen
Past Poisons (Headline, 1998)
Slight Case of Scotch, A
The Bell House Book, Hodder & Stoughton, 1979 Collaborative story
Stalker, The
The Sedgemoor Strangler and Other Stories of Crime (Crippen & Landru, 2001)
Star Struck
Death by Horoscope (Carroll & Graf, 2001)
Staring Man, The
Butchers and Other Stories of Crime (Macmillan, 1985)
Supper with Miss Shivers (retitled from The Christmas Present)
Ellery Queen's Mystery Magazine, mid-December, 1991
Sweet and Low
Ellery Queen's Mystery Magazine, September-October, 2016
Taking Possession
Ellery Queen's Mystery Magazine, November, 1982
Three Pie Problem, A
Ellery Queen Mystery Magazine, January 2013
Trace of Spice
Butchers and Other Stories of Crime (Macmillan, 1985)
Usual Table, The
The Mysterious Press Anniversary Anthology (Mysterious Press, 2001)
Valuation, The
Ellery Queen's Mystery Magazine, February, 1990
Vandals
Woman's Own, December 20, 1984
Virgin and the Bull, The
John Creasey's Mystery Crime Collection (Gollancz, 1983)
Virgoan and the Taurean, The (re-titled from The Virgin and the Bull)
Ellery Queen's Mystery Magazine, July, 1983
Wasp, The (re-titled from Where is Thy Sting?)
Ellery Queen's Mystery Magazine, November, 1988
Wayzgoose
A Dead Giveaway (Warner Futura, 1995)
Where is Thy Sting?
Winter's Crimes 20 (Macmillan, 1988)
Window of Opportunity
Sunday Express, April 6, 2003
Woman and Home (re-titled from Taking Possession)
Butchers and Other Stories of Crime (Macmillan, 1985)
Word of a Lady, The
Ellery Queen's Mystery Magazine, July, 2000
Youdunnit
New Crimes (Robinson, 1989)
You May See a Strangler
Midwinter Mysteries 2, Little, Brown, 1992
Zenobia Hatt Prize, The (re-titled from The Pomeranian Poisoning)
Ellery Queen's Mystery Magazine, August, 1988